Podcast: Play in new window | Download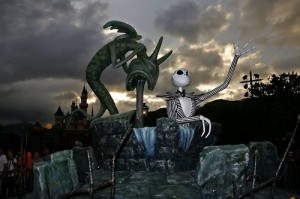 (Apologies for the late posting on the site, work and Halloween both piled on last week, but we made it in time for Christmas, which is a much more important holiday anyway…just ask Jack 😉 [honestly, Halloween is actually my favorite])
In this episode Kevin and I talk about some of the films slated for Chinese New Year 2010 (including the Andy Lau film Future X-Cops mentioned previously – see earlier post for link to the trailer) as well as some of the recent releases listed below.  We end with a few picks to enhance your Halloween.
NEWS:
Dreamworks to produce live action Ghost in the Shell (Variety)
Saw VI doesn't cut it. (Reuters)
EAST SCREEN:
Poker King (Hong Kong 2009)
The Message (China 2009)
WEST SCREEN:
Taking Woodstock (US 2009)
Astro Boy (US/China 2009) link to Frederick L. Schodt's response to NY Times review (his is the 4th comment).
FLYING BUDDHA (賣飛佛):
Halloween Picks 2009
Out of the Dark (Hong Kong 1995)
Rahtree: Flower of the Night (Thailand 2003)
Running Time (01:01:53)