Podcast: Play in new window | Download
Episode 119 of the East Screen West Screen podcast.  Talking films from Hong Kong to Hollywood and lots of stuff in between.
This week we look to the latest film pairing of Tony Leung Chiu Wai and Zhou Xun in THE SILENT WAR [聽風者]. We also discuss the latest film from director Pang Ho Cheung VULGARIA [低俗喜劇]. Then we head to hollywood with Pixar's latest offering BRAVE. And for a video discussion I talk about a 2005 American film starring Sylvia Chang called AMERICAN FUSION.
We also discuss the opening of THE BULLET VANISHES [消失的子弹] in the mainland, some controversy over THE AVENGERS Blu-ray set, and DreamWorks' plan to open its first theme park in China.
Running Time (53:39)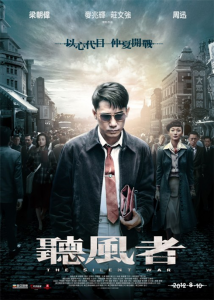 EAST SCREEN:
Clip: Chris Rock – NEVER SCARED (2004)
WEST SCREEN:
VIDEO PICK:
NEXT EPISODE (#120) –
You can email the show at 
eastscreen
at gmail.com