Podcast: Play in new window | Download
Episode 131 of the East Screen West Screen podcast.  Talking films from Hong Kong to Hollywood and lots of stuff in between.
A short show this week as we only look at two films. Up first, the long awaited Hong Kong film COLD WAR [寒戰]. Then it's back to Bond basics as Daniel Craig returns for SKYFALL.
We also discuss the status of Netflix in Asia, Ang Lee's new film studio in Taiwan, and the latest on the LOGAN'S RUN remake.
Running Time (1:16:56)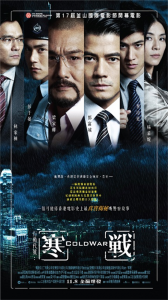 EAST SCREEN:
WEST SCREEN:
VIDEO PICK:
NEXT EPISODE (#132) –
You can email the show at 
eastscreen
at gmail.com