Podcast: Play in new window | Download
Episode 142 of the East Screen West Screen podcast.  Talking films from Hong Kong to Hollywood and lots of stuff in between.
Finally back after nearly a month long hiatus due to both moves and movies, Kevin and I look over the latest film from Wong Jing, PRINCESS AND SEVEN KUNG FU MASTERS [笑功震武林]. We then look to the much anticipated return of Tang Wei to a leading role on Chinese screens with FINDING MR. RIGHT [北京遇上西雅圖].
We also news of how Chen Kaige relates Beijing's air quality to film creativity and Tang Wei's initial big screen success with her return to the mainland big screen.
Running Time (1:13:59)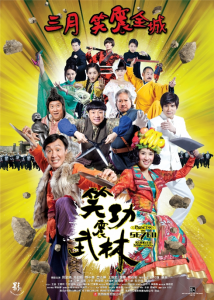 NEWS:
Chen Kaige on Bejing air quality and creativity CPPCC (WSJ)
Tang Wei takes names at the China box office (Jayne Stars)
EAST SCREEN:
PRINCESS AND SEVEN KUNG FU MASTERS [笑功震武林]
FINDING MR. RIGHT [北京遇上西雅圖] 
WEST SCREEN:
VIDEO PICK:
NEXT EPISODE (#143) –
You can email the show at eastscreen at gmail.com