Podcast: Play in new window | Download
Episode 144 of the East Screen West Screen podcast.  Talking films from Hong Kong to Hollywood and lots of stuff in between.
With three films this week, special guest Ross Chen of www.lovehkfilm.com, Kevin and I first discuss the period action piece  SAVING GENERAL YANG [忠烈楊家將].  Thne we catch up with the third film in Aaron Kwok's detective trilogy CONSPIRATORS [同謀].  Finally we jump to the future for another West Screen feature with Tom Cruise in OBLIVION.
Running Time (52:36)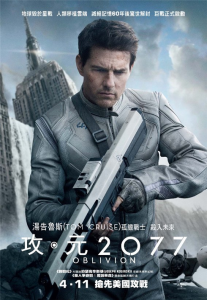 NEWS:
The discussion of the 32nd Hong Kong Film Awards was originally recorded with this episode, but since the discussion ran for over an hour, I decided to edit it out and post it as a separate episode.  Depending on future circumstances (and listener feedback), we may likely cover future HKFA winners as a stand alone episode.  Apologies for the somewhat un-cohesive nature of this episode.
EAST SCREEN:
SAVING GENERAL YANG [忠烈楊家將]
WEST SCREEN:
VIDEO PICK:
NEXT EPISODE (#145) –
You can email the show at eastscreen at gmail.com