Podcast: Play in new window | Download
Episode 146 of the East Screen West Screen podcast. Talking films from Hong Kong to Hollywood and lots of stuff in between.
On this week's show Kevin and I take a look at the latest from director Peter Chan with AMERICAN DREAMS IN CHINA [中國合伙人]. Then it's back to the future for the latest installment in the Trek franchise with STAR TREK: INTO DARKNESS.
We also discuss some news about Donnie Yen's coming film, the new Captain Harlock animated film from Japan and a short rant on the Blu-ray and DVD release of Stephen Chow's JOURNEY TO THE WEST: CONQUERING DEMONS [西遊降魔篇].
Running Time (1:25:51)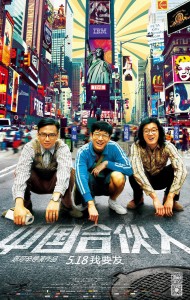 EAST SCREEN:
AMERICAN DREAMS IN CHINA [中國合伙人] 
WEST SCREEN:
VIDEO PICK:
We rant about the Hong Kong release of Stephen Chow's JOURNEY TO THE WEST: CONQUERING DEMONS [西遊降魔篇]
NEXT EPISODE (#147) –
You can email the show at eastscreen at gmail.com