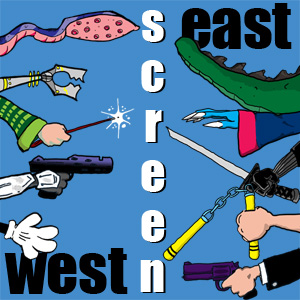 East Screen / West Screen is a Hong Kong based podcast focused on cinema from Hong Kong, China, Asia, and the West.  The series began in 2009 and took a brief hiatus in 2013/2014 before restarting in 2015.  Hosts Paul Fox, Kevin Ma, and selected guests discuss current films, news, rumors and reviews.
Contributors:
Paul Fox – A college lecturer in the field of Media Studies and Asian Studies, Paul spends a disproportionate amount of time watching Hong Kong movies, marking student assignments, writing lectures, or chasing his toddler daughter around the room.  A former resident of the US, Paul moved to Hong Kong in 2000 to become more immersed in southern Chinese culture and language.  Prior to becoming a college lecturer, he has worked for Motorola and (briefly) Disney.  Paul holds a BA in Asian Studies, an MFA in Media Design and an MA in Media Cultures.  He is still contemplating pursuit of a PHD or reinventing his life and becoming a cartoonist.
Kevin Ma – Kevin was born in Hong Kong, and moved to the United States at age nine.  He picked up the dangerous hobby of film watching as he grew up, and has spent more money on buying movies than he'll ever admit.  In 2005, Kevin began work as a freelance film/music critic for Yesasia.com and Lovehkfilm.com. Since his return to Hong Kong in 2007, he has also taken on freelance journalism and scriptwriting.  He received his MFA in Cinema and Television (concentration scriptwriting) in 2010 and worked as an English Editor at YesAsia.com.  He is also currently working as the Entertainment Editor for Cathay Pacific's inflight magazines and as a correspondent for Film Business Asia.
Guest Hosts:
Kenneth Brorsson – Co-founder, producer, and host of the expansive Podcast on Fire network, Kenneth works tirelessly in both viewing and discussing cinema in both audio and written form.  In addition to creating multiple podcast programs on Asian film genres, he maintains a seperate site for extensive written reviews at So Good Reviews.
William Chan – Graduated in Hong Kong with a Language and Communication degree and an MFA degree in Media design and Technology.  William is working as a multimedia developer as well as an independent performing arts critic, book editor, theatre performer and instructor in media production.  In 1999 William founded the amateur theatre group Friends' Theatre (友好戲睇), and has since created more than 15 original studio theatre works and multimedia performances. William's Blog
Ross Chen – Ross (aka. Kozo) is the founder of the LoveHKFilm.com website.  From his website his bio reads,  "In 2002, Chen founded LoveHKFilm.com to inspire him to continue watching and writing about Hong Kong film. When reviewing film, he goes by the pseudonym Kozo.  In 2005, Chen was hired by YesAsia.com to be a Senior English Editor. Despite his employment by the leading online Asian Entertainment retailer, he pledges to maintain an impartial stance when reviewing Hong Kong Cinema. In other words, he will continue to be as mean as he possibly can. In 2006 he was promoted to Managing Editor, whereupon he joined the ranks of the pointy-haired bosses and lost his sense of humor."
Shelley Cheung – Employee for YesAsia.com and all around fan-girl of Asian cinema.  When she is not out and about watching films and buying DVDs, she spends some quiet time at her island home devouring Asian TV dramas.
Michael Suen – Michael is the webmaster for 21cb.net. In his own words he was "…spawned in Los Angeles, raised by wolves in Hong Kong, and educated on the icy tundra of Middlebury, Vermont. He graduated in 2011 with a degree in English literature.  Michael now works as a copywriter at yU+co[lab], a design company based in Hong Kong. His past work can be seen in The South China Morning Post, Gothamist, and Geekosystem. Visit his personal blog here."
Tim Youngs –  Tim was the founder of Another Hong Kong Movie Page (http://www.kowloonside.com/) one of the first  Hong Kong  English language based websites to talk about Hong Kong cinema.  In addition to writing reviews, the site was notable for archiving images of the famous painted billboards that local cinemas used to use.  Tim has since moved on to bigger things in working with the Udine Far East Film Festival.  As such he has little time for writing reviews these days, but he still stays actively engaged in his enjoyment of local cinema.