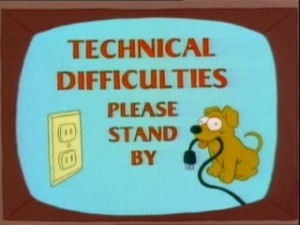 Well, 2010 is starting off rather rough.  While Kevin was off in Japan last week getting his sushi and saki fix, we were all set up to record an episode of ESWS.  Suddenly the core of the show (a little Alesis firewire 8 mixer) decided that it was going to stop working.
To be honest the thing never really worked correctly since I started using it back in 2009, despite all my attempts at updating the drivers, the bios and the interface software.  I even moved the thing over from a PC to a Mac.  Sometimes it played nice and sometimes it wouldn't.  In this respect it was allot like my mom's cat.
In recording previous episodes, there have been several nights in which Kevin was waiting patiently on SKYPE while I worked through restarts and configurations that I had read about on forums.  Nothing has consistently worked.  And like being in any bad relationship, it was easy to keep thinking it was something wrong with me, something that I was doing wrong.
Finally on Thrusday evening of last week, as Kevin rested up in his Japanese hotel room from his fugu binge that day, we were going over the notes, I hit the record button and nothing.  An hour later and still nothing, no repsonse from the mixer.
At some point you can only bang your head against the table so many times before you have to call it a day, so I did.  I have returned the mixer to the store I purchased it at (a small audio shop on Apliu Street the Shum Shui Po disctrict) and they in turn are going to send it in to be checked by the local ditributor.  I am not sure how long all this will take, but it is my goal to have ES/WS up and running again by Chinese New Year even if it means I have shell out some more ca$h for another mixer.  In the meantime, I hope you will bear with us as we undergo this bumpy start to the new year.