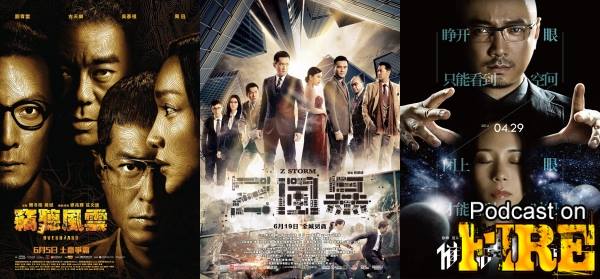 So this is it, Project A, as mentioned in the previous post.  Podcast on Fire: The Dynasty Report is the current 'official' title, but that is subject to change.  Technically it is a sub-category within the Podcast on Fire series and as such will occur on a semi-regular basis, dependant on both new-releases in Hong Kong (which are few and far between) and the scheduling for the other programs in the PoF line-up.
Kenneth Brorsson (of Podcast on Fire) and I began talking about this idea some weeks back.  I knew I wasn't really down for doing a solo podcast, so Ken pitched the idea of him acting as a springboard for discussion.  I liked the idea and jumped at the chance to work within the PoF network.
Though do I miss being in the producers chair, the plus side for this co-op allows me to talk current films (which I love doing) and Ken magnanimously handles the technical producing (which is a boon with my current 2 year old daughter so often on hand).  As with any new podcast, the format is very experimental at this stage, so the plan is to see if it works and tweak it where we can.  If you'd like to send feedback for the show, you can do so through either Ken or myself and we will be sure to pass it along.
I will post show updates and trailers here, but the stream, feed and general notes will all be found over at the PoF site here: http://podcastonfire.com/2014/08/podcast-on-fire-184-the-dynasty-report-overheard-3-z-storm-the-great-hypnotist/
On this freshman episode we cover some of the June-July 2014 releases.  These include;
OVERHEARD 3 [竊聽風雲3]
Z-STORM [Z風暴]
THE GREAT HYPNOTIST [催眠大师]