Every Step You Take <陪著你走> (TVB Drama)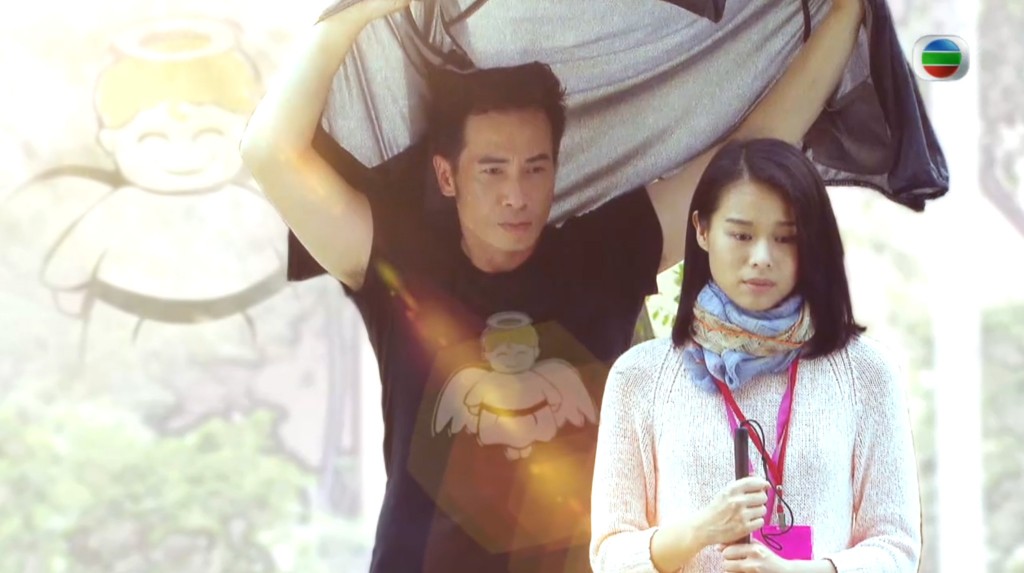 I've been an on and off watcher of TVB dramas for many years.  With so many productions put out annually it can be difficult to find consistency in the genre as a form of reliable entertainment.  Yet, as with many of the Hong Kong stars of old, TVB dramas often form the platform from which new cinema talent is drawn.  And it some cases it becomes the reliable safe harbor to which some big screen talent seeks to return. 
Over the past decade or so, I've developed my own tastes as two who I like to see in TVB dramas (as well as the preferred genres of such dramas).  So whenever a particular actor or actress is slated to headline a series, my wife and I will try and make it a point to watch. Such was the case for Every Step You Take <陪著你走> (2015), which stars Myolie Wu (胡杏兒) and Moses Chan (陳豪).  Myolie first showed up for me in the first Triumph in the Skies series (2003) and instantly charmed my socks off as the bubbly Zoe and while she has made a couple moves over to the big screen, her home has primarily been on TVB.  Moses I knew from much earlier when he was making big screen appearances.  While he still does occasional film work (such as the 2014 film Dot to Dot <點對點>), he has been much more active with TVB roles since the turn of the millennium.
Episodes: 20
The Basics:
Middle-aged advertising executive Kam Yin Chong (Moses Chan) takes an extended leave from work to try and rediscover himself and his passion.  After moving back to the apartment where he grew up he encounters Song Tian Chong (Myolie Wu) a young visually impaired girl and her guide dog To-junior.  As the two have a seemingly natural rapport, they soon find themselves helping each other overcome their respective life challenges and what starts as an oddball friendship soon grows to become something more.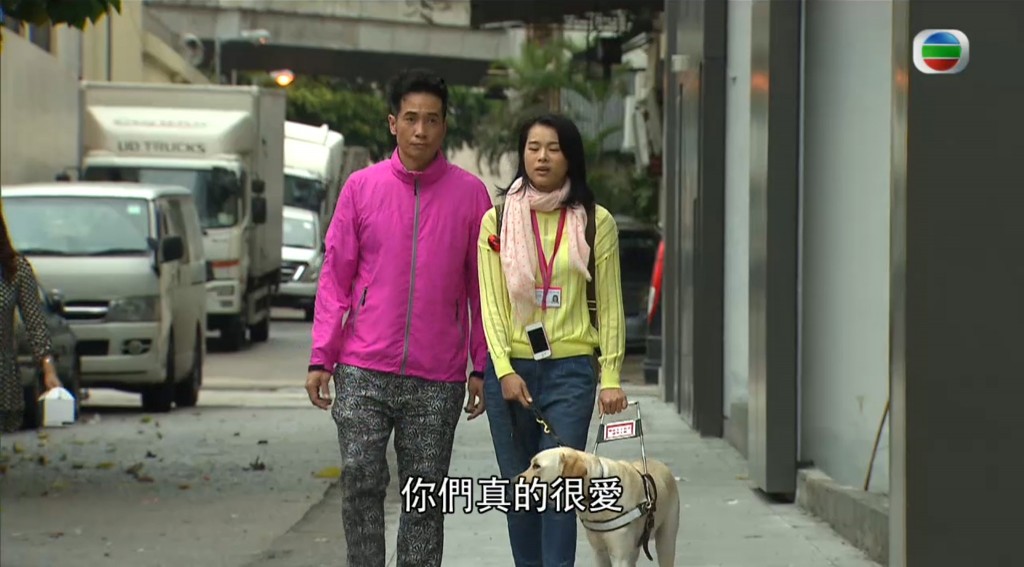 To say that TVB various plots ride a rail of predictability would be a vast understatement, so if you can't figure where things are going right from the start, then you probably haven't watched many TVB dramas to begin with.  That being said, just because you are on a set track doesn't mean you can't enjoy the ride.  What makes this series truly enjoyable is the chemistry shared by the two leads.  Moses' experience as an actor shines through here in the quirks and mannerisms he brings to the hyperactive Kam Yin Chong (and having just finished watching his most recent drama Ghost of Relativity <鬼同你OT> a few weeks prior really highlighted the differences he brought forth to this role).  Myolie's more reserved performance helps to offset the, at times, frenetic nature of her on screen counterpart.  She also has the difficult task of both acting against an animal companion, and portraying someone who is blind, but she pulls it off surprisingly well.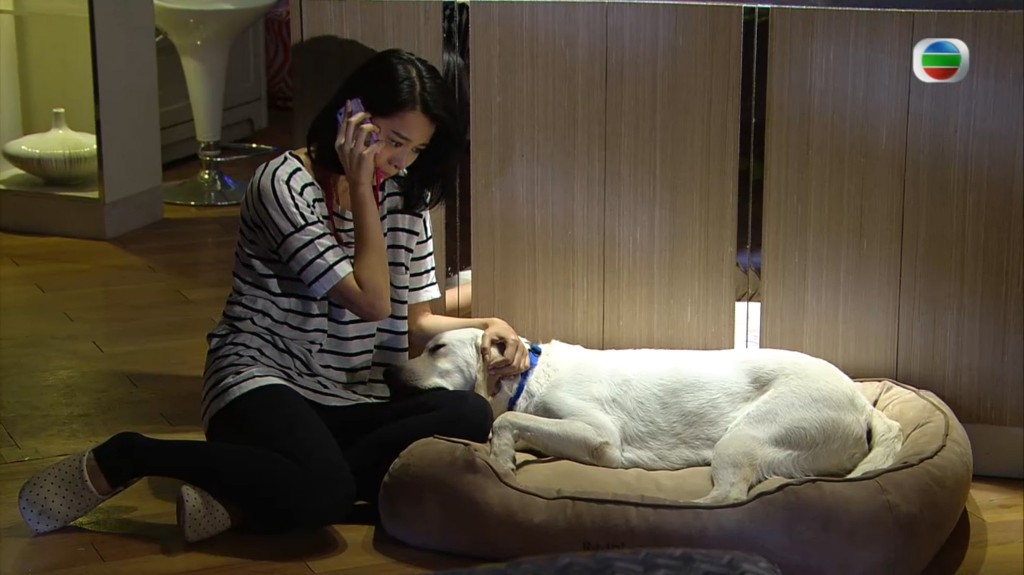 An added bonus Evergreen Mak Cheung-ching <麥長青> plays a long-time friend of Moses' character.  This bro-mance however has fallen apart as the two have not spoken for years and thus the salvaging of this relationship becomes a secondary plot device.  As middle aged men, their relationship is based, in part, on nostalgic references to the pop culture of their youth.  This takes the form of call outs to Andy Lau, Leslie Cheung, Jacklyn Wu, and the 1990 film A Moment of Romance <天若有情>.  Another point of contextual reference is to that of the 1989 TVB series Looking Back in Anger <義不容情>, which starred Felix Wong <黃日華> and Carina Lau <劉嘉玲> and becomes key talking point at various times throughout this series.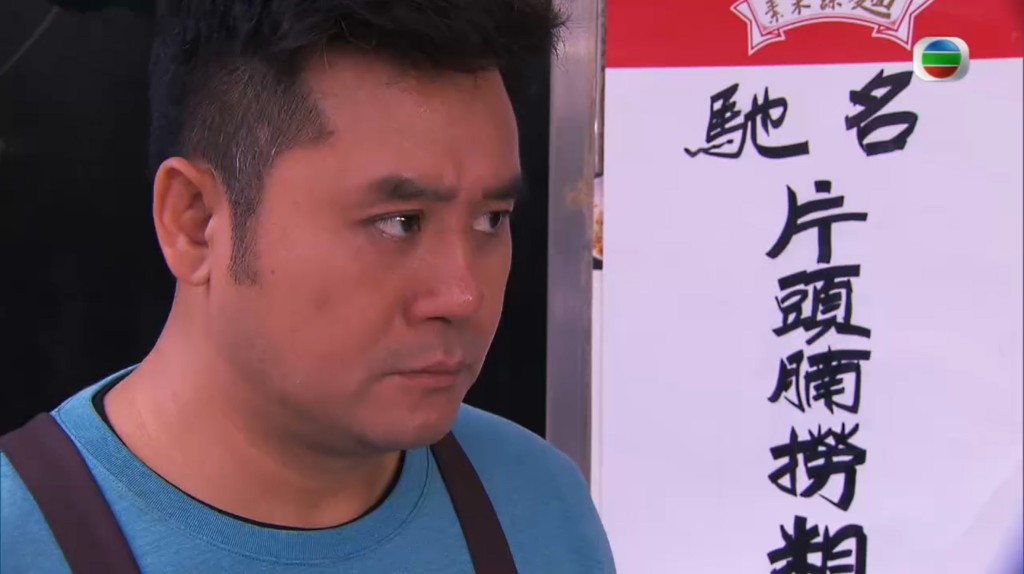 Other less interesting plot drivers include Song Tian Chung's strained relationship with her boyfriend, various bits of family drama involving both leads, and some subplots at Dream Power Workshop, an artist management company where Myolie's character finds employment.  This later aspect comes late in the series and feels (to me) like filler in contrast with the other narratives being pushed.  It primarily revolves around a budding romance between a young handler played by Cilla Kung <樂瞳> and her almost-nobody-level artist. Another aspect of the 'filler' angle was the rather lengthy amount of time given to recaps at the start of each episode, as well as repeats of flashbacks.
And it wouldn't be TVB without a truck load of coincidental connections.  Dream Power Workshop (where Song Tian Chong's character ends up working) is the same agency that oversees Raymond Wong Ho Yin (黃浩然 – cameoing as himself), who was the star of a famous ad created by Moses' character.  A noodle shop frequented by Song Tian Chong is actually run by Evergreen Mak's character (who is former best buds with Moses' character).  There are more of these, but you get the idea. As a series, this is certainly not the worst offender of coincidence to be encountered.
The Finale:
TVB dramas can live or die based solely upon the scripting of the final episode.  I've seen many a series have a good strong multi-episode narrative run only to crash and burn because the writers simply didn't know how to give it a good sense of closure.  I am happy to say that Every Step You Take <陪著你走> does a solid job with its finale.  It goes for a neat little bow, as one would expect from modern rom-coms.  This is mostly successful, but I'd argue that the handling of Evergreen Mak's character was both a bit rushed and not as developed as it could have been and I'd have liked more screen time for him overall.  But despite some of the (par for the course) grievances above, if you are a fan of rom-coms or the leads, you will want to see this.  It's got some great levity at times, and really it's the two stars who make it work as well as it does.  And since Myolie Wu  decided earlier in the year to not renew her TVB contract, this entry may well be among one of her final leading performances in Hong Kong televised dramas.