Tanglin – The First 50 (Singapore TV Drama)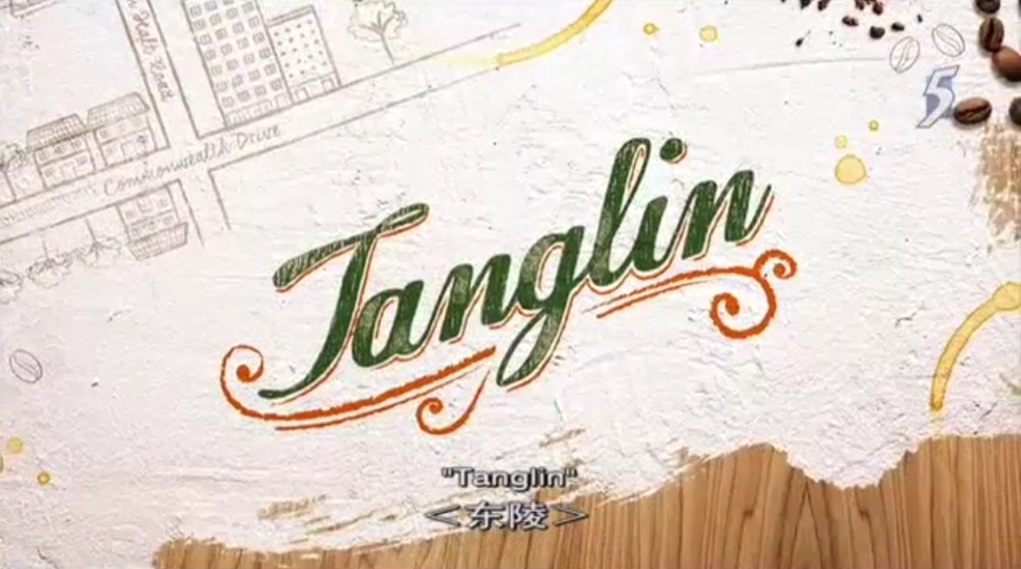 Earlier this past summer, after a short vacation to Singapore, I become hooked on watching Singaporean TV dramas. Like Hong Kong, Singaporean entertainment is often constrained by budgetary issues due to the limited size of the target market, but despite this I have found the narratives to be entertaining and enjoyable.
This is particularly true of Tanglin (2015), an English based drama where some of the actors are performing in a second language, and doing an excellent job. The series is targeted at a 199 episode run (half hour episodes, five nights per week) and airs in the 8:30pm – 9:00pm timeslot on MediaCorp Channel 5.
Episodes: 1- 50 (out of 200)
The Basics: 

Tanglin is a 2015 Singapore drama that revolves around four families that are connected in various ways. The series name is taken from the Tanglin Halt area with many of the scenes set at the fictional Tanglin Coffee House (TCH). From here the setting expands to include the Holland Village and Commonwealth areas. The daily lives of the four main families, the Bhaskars, the Lims, the Rhamans, and the Tongs, form the main focus of the dramatic interactions.
Like many televisions dramas with an extended cast, coincidental encounters abound for these four families, and this leads to a rather complex series of relationships. A big part of the first 50 episodes is unpacking these relations and some of the history behind them.
Plotting the complex relations of Tanglin: http://tv.toggle.sg/en/channel5/shows/tanglin-tif/chart
The Bhaskars – Doctor Bhaskar Ram, the family patriarch, returns to Singapore after years in India. His run in with an old flame (Li Yan of the Tong family) digs up old memories and causes issues for his marriage to his wife Meera. The Bhaskars have two children, their son Arjun a newly appointed doctor, and their daughter Shruti. Arjun gets involved with Diana Tong, daughter of Li Yan, creating further complications for both of their parents. And despite being a famous video blogger in India, Shruti finds that she has trouble making friends at the new secondary school she transfers to in Singapore.
The Lims – Lim Kwong San is the family patriarch, a hard nosed businessman who runs K.S. Foods, a company he started with his wife and the late husband of Salmah Rahman. His daughter Xue Ling serves as an executive in the company, but finds her father's patriarchal nature very both restrictive and demeaning. Her husband Adam Tong takes up the role of house-husband to support his wife's career and help raise their son, Michael, and daughter, Melissa, but this concept flies in the face of the traditional expectations of a husband and causes tensions with his in-laws.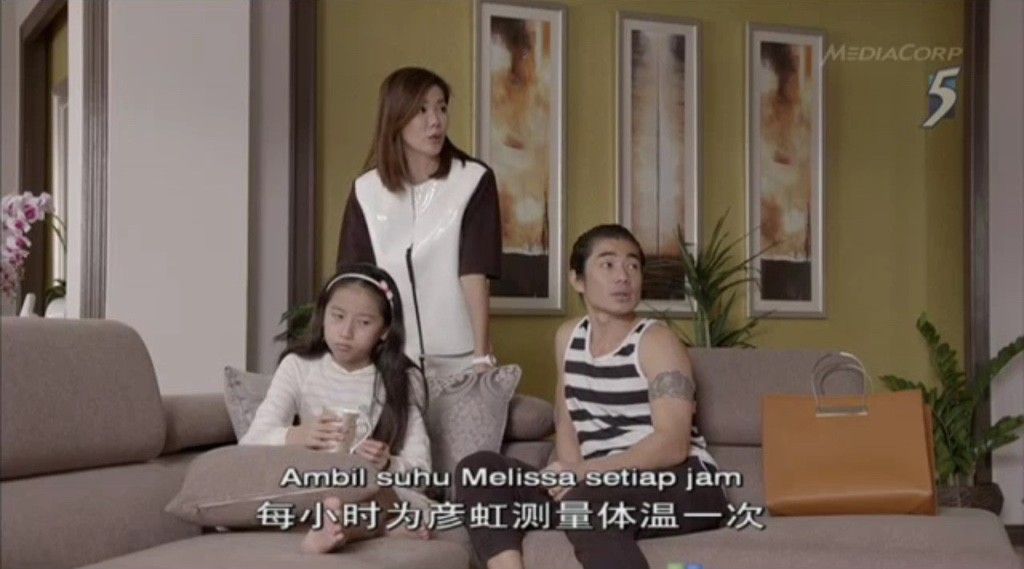 The Rahmans – With the death of her husband occurring some time before the start of the series, Matriarch of the family Salmah struggles to deal with her two adult daughters Nadiah and Norleena. The older of the two Nadiah seems to only want to focus on her career with no thoughts of settling down, while Norleena's pending wedding to her fiancé Salaiman is slowly turning her into a bridezilla.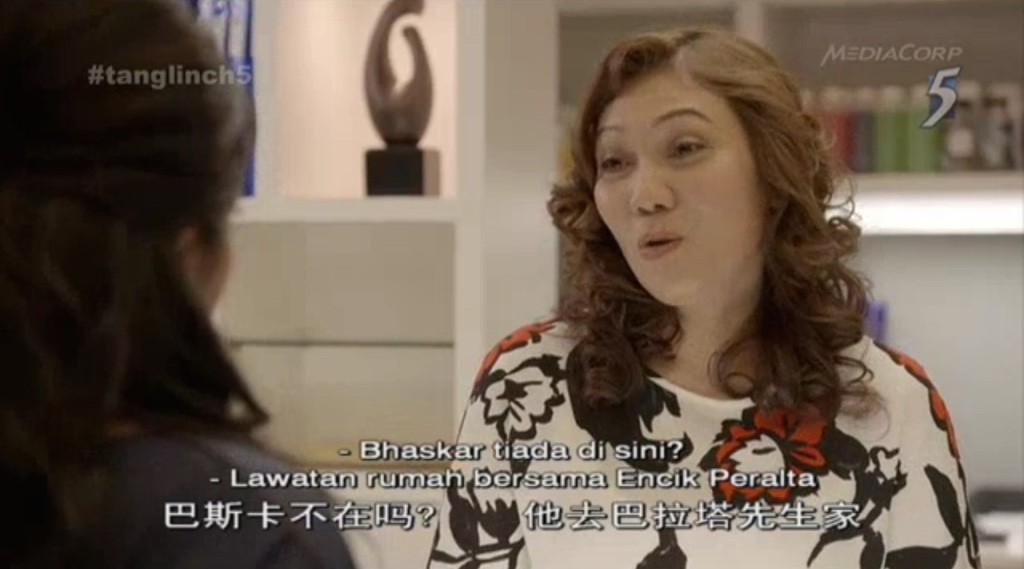 The Tongs – The largest of the families, matriarch Li Yan (also a widow) manages TCH as well as her 5 children. That include Adam (who is married to Lim Xue Ling), easygoing Ben, money minded Diana, and Eddie (who attends the same school as Michael and Shruti).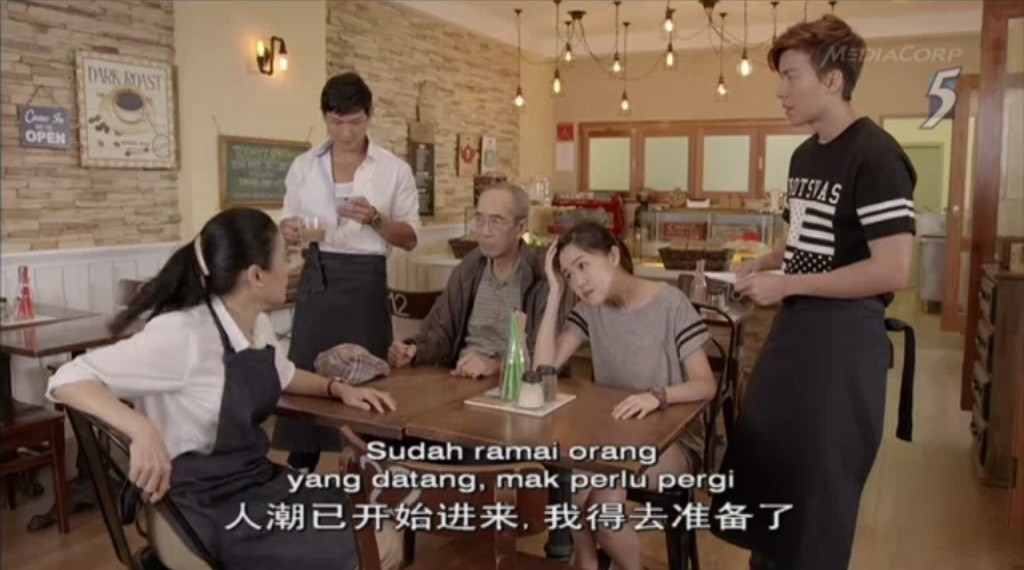 As mentioned, with a large cast, the narrative often pushes the families together in a variety of ways.  At times this feels organic, but occasionally it can feel forced. A few supporting characters do pop up from time to time as well, including Jay who returns from studying abroad to take up a job at TCH.  One of the oddest connections is the relationship between Michael Tong and Eddie Tong.  Eddie is the son of Li Yan, whereas Michael is the son of Adam Tong (Li Yan's eldest) and Eddie's oldest brother. So despite their similarity in age, this makes Eddie an Uncle to Michael.  (There's a further complex layer to this that is revealed later in the series that I won't spoil here.)
Asian Family Valuations
In the first 50, the show alludes to some of the romantic plots of the 'long-game'. Dropped hints would have us believe that Jay and Diana are destined to be a couple, despite her early romance with Arjun.  Similar nods point to the idea of Eddie and Shruti hooking up at some point. Key plot arcs cover, Norleena and Salaiman's wedding, Xue Ling's attempt to modernize the KS Foods brand, Shruti trying very hard to fit in and make friends with the cool girls, the romance of Diana and Arjun, Ben getting back together with his somewhat toxic ex-girlfriend Vanessa and both Eddie and Michael each leading secret lives to try and pursue their individual goals.
For many viewers some arcs will be of more interest than others.  I initially found the Rahman's wedding arc to be rather repetitive, but once they moved past this and Nadiah was given more focus, the Rahman storylines picked up for me.  The Tongs get much of the focus due the sheer size of the family, although Chris doesn't show up until much later.
There are also some subtle hints at social class within the show.  While seemingly falling within the middle to upper class (a trademark of most popular culture programs) one can spot subtle differences in wealth across the spectrum from the very wealthy Bhaskars, the moderately wealthy Lims, to the less wealthy Tongs and the Rahmans.  It might be worth mentioning that in the case of the less wealthy families, both have lost husbands and seem to be less well off as a result.  Conversely the Bhaskars and the Lims each can afford the luxury of having a domestic helper and a stay at home spouse.
For the moment, my current MVP characters are Diana (Jae Liew) who is funny and awesome whenever she is on screen, Nadiah (Elfaeza Ul Haq) smart and beautiful, Jay (Nat Ho) who has this old, wise, zen-master thing going despite being so young, and Li Yan (Wee Soon Hui) whose dynamic presence seems to fill every scene she is in.
As mentioned, the show runs in English which is the 'official' language of Singapore.  The series in some ways feels akin to Roddenberry's Star Trek where everyone is speaking English, but without the excuse of a universal translator. It is refreshing however to see such an integrated cast performing so well together without all of the hang-ups and stereotypes that a similar show produced in the U.S. might carry. English dramas are not completely uncommon in Singapore though, and in fact there is some crossover with Hong Kong. In the past Hong Hong celebrities like Lydia Shum (沈殿霞) and Carol Cheng (鄭裕玲) both did English language dramas produced in Singapore and at the time of this review Bernice Liu's (廖碧兒) show Lion Moms (2015) has just recently started airing.
The Road Information Superhighway to Singapore
The challenging thing for most viewers outside of Singapore however is the access. While Hong Kong's TVB has a strong export market to diasporic Chinese communities abroad, Singaporean entertainment, despite the fact that much of its programing is recorded in Putonghua and includes both simplified Chinese and English subtitles, is rather hard to come by outside of the city-state itself.  Initial investigations of Singapore's online subscription service Toggle, which streams MediaCorp television programs, revealed that one must have a Singaporean ID to register for the service.  So despite my desire to throw money at them, not being a Singaporean in this case prohibits commerce.  I won't get back into my arguments about these outdated media models, like region blocking hamstringing revenue earnings and the potential growth of new media outlets, but needless to say, I am more than willing to pay and they won't let me.
Overall, I have found the first 50 episodes of Tanglin to be entertaining with strong performances and fairly believable narratives. It is light in terms of both dramatic overtones and time commitments so I would strongly recommend it to anyone that is interested in either Singapore or Asian TV drama, and also anyone looking for the experience of a Asian based show produced in English. At the time of this review, I am about a month and a half behind (6 weeks to be exact) and with the fall TV season in the U.S. now in full swing, I will probably maintain this rate, at least until the winter holidays roll around and I can binge watch a bunch of episodes during my long-haul transpacific flight stateside.