Back in late July, while my stepmother was visiting we decided to take her on a short trip to Singapore.  Despite it's small size and the relative heat, I am extremely fond of Singapore.  While there are numerous similarities between the fragrant harbor and the Southeast Asian city-state, the structure and order (and definitely the cleanliness) of Singapore have a leg up on Hong Kong in many aspects.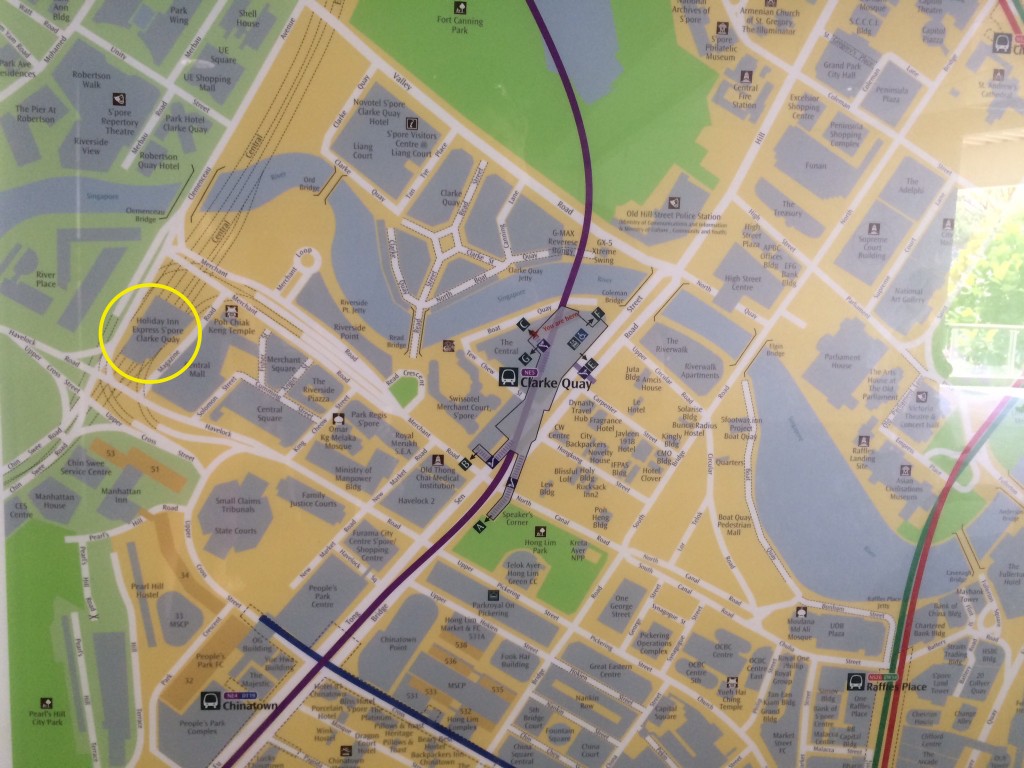 For our stay this trip, after a good bit of research, my wife opted to try the Holiday Inn Express near Clarke Quay.  This decision was based in part on a couple factors, one being that the price was right, another being that it was close to one of our favorite haunts (Maxwell Food Centre, near Chinatown) and a third was tied to our efforts to try and acquire more points through our IHG membership.  We're still neophytes at the whole points/miles game, but we're learning.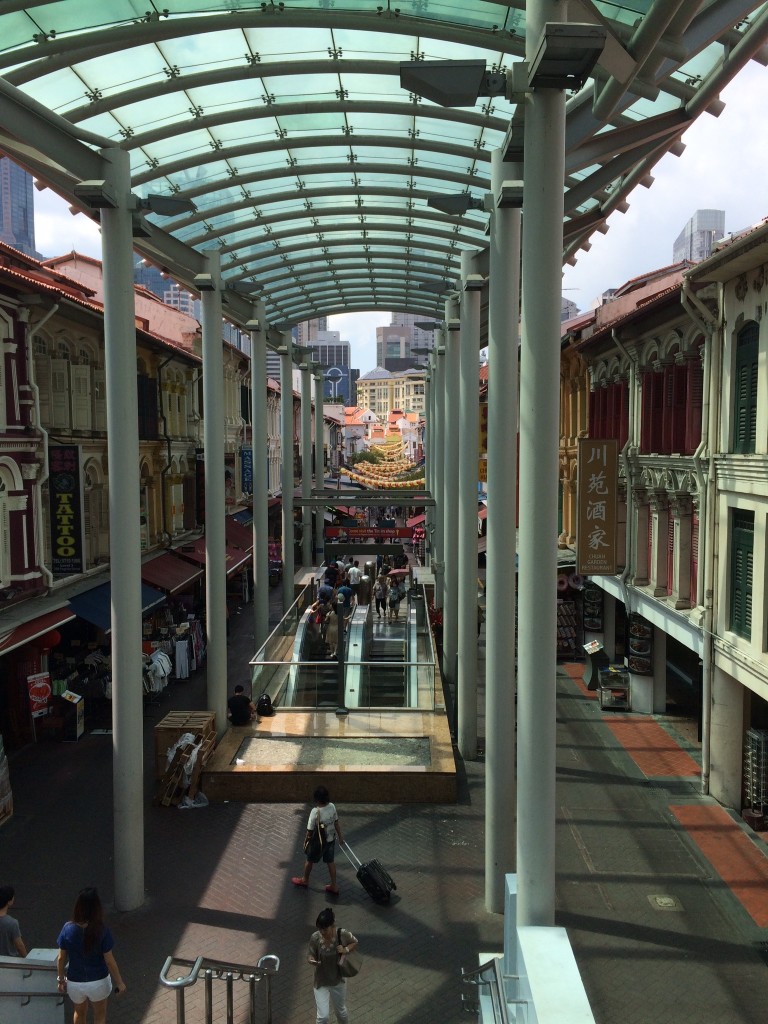 Our stay was for just under a week (5 nights), giving us enough time to relax a bit and allow my stepmother a chance to do a bit of sight seeing as well.  I should point out that my idea of a vacation tends to be quite reserved and a bit odd compared to that of the average traveler.  I am ok for half day excursions, but I like to spend a fair amount of time at the hotel enjoying the amenities too.
The most important meal of the day
Aside from the value and convenience (for us) of the location of the hotel.  One big plus was the free buffet breakfast every morning.  This may not seem like a huge issue, but when you consider the costs of feeding the four of us (my wife, stepmother, 3-year old daughter, and myself) every morning over the course of the week those costs can add up.  When we travel, I do have a regular practice of trying to locate the nearest supermarket to stock up on some in room items like fruits, snacks and drinks to help mitigate the expense of always needing to eat out.  And while there is a Cold Storage supermarket a few blocks away from the hotel, the breakfast buffet was simply a great amenity.  It allowed us to have a relaxing morning while outlining each day's junket.
Cool pool


Another interesting aspect of the hotel was the aquarium style lap pool on the roof.  The above-the-floor design allows for some interesting shots of your loved-ones as they swim that you just can't get with a standard pool.  The downside is that there is absolutely no shaded section to this pool, meaning if you have alabaster skin (like yours truly), then you better have your SPF1000 on, otherwise you will need to limit yourself to early morning or late afternoon – evening swims (I tend to prefer the latter).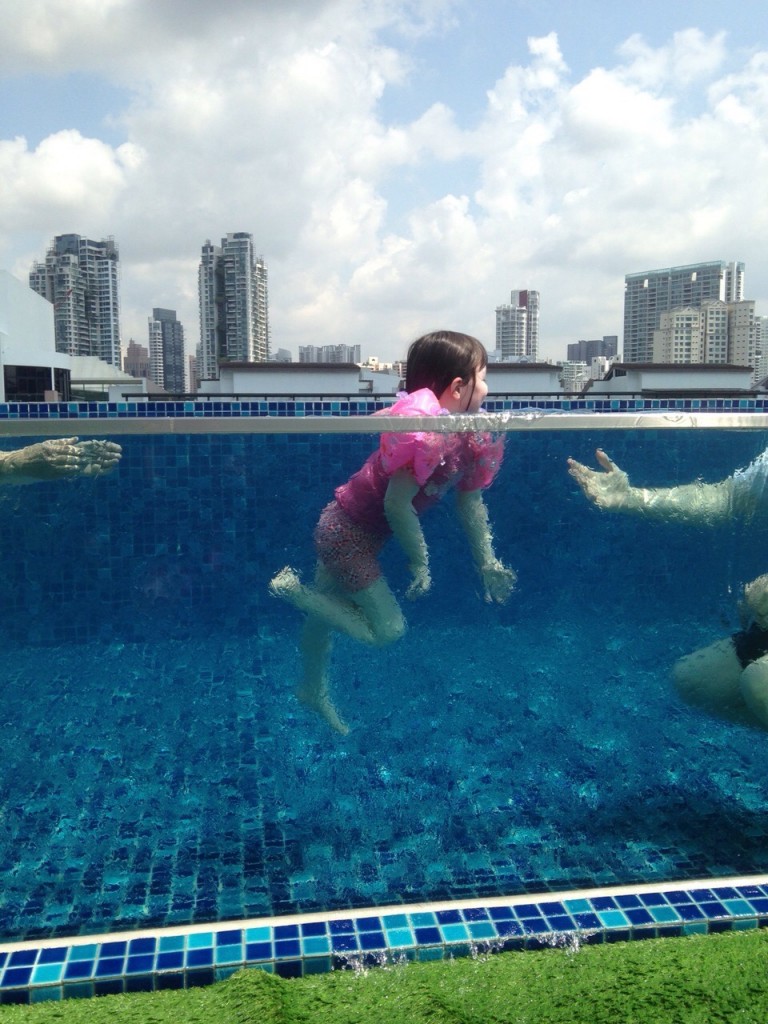 There is a small attached deck with two Jacuzzi style tubs for relaxation if the long pool is not your thing. The remainder of the roof is made of up of sitting areas with some large umbrellas (but not nearly enough), a variety of greenery, a couple vending machines, a towel cabinet and a small exercise room.  Perhaps a bit Spartan in comparison with other pool/deck areas that I've experienced, but it was an ideal place for watching the rehearsals for the Singapore 50 celebration.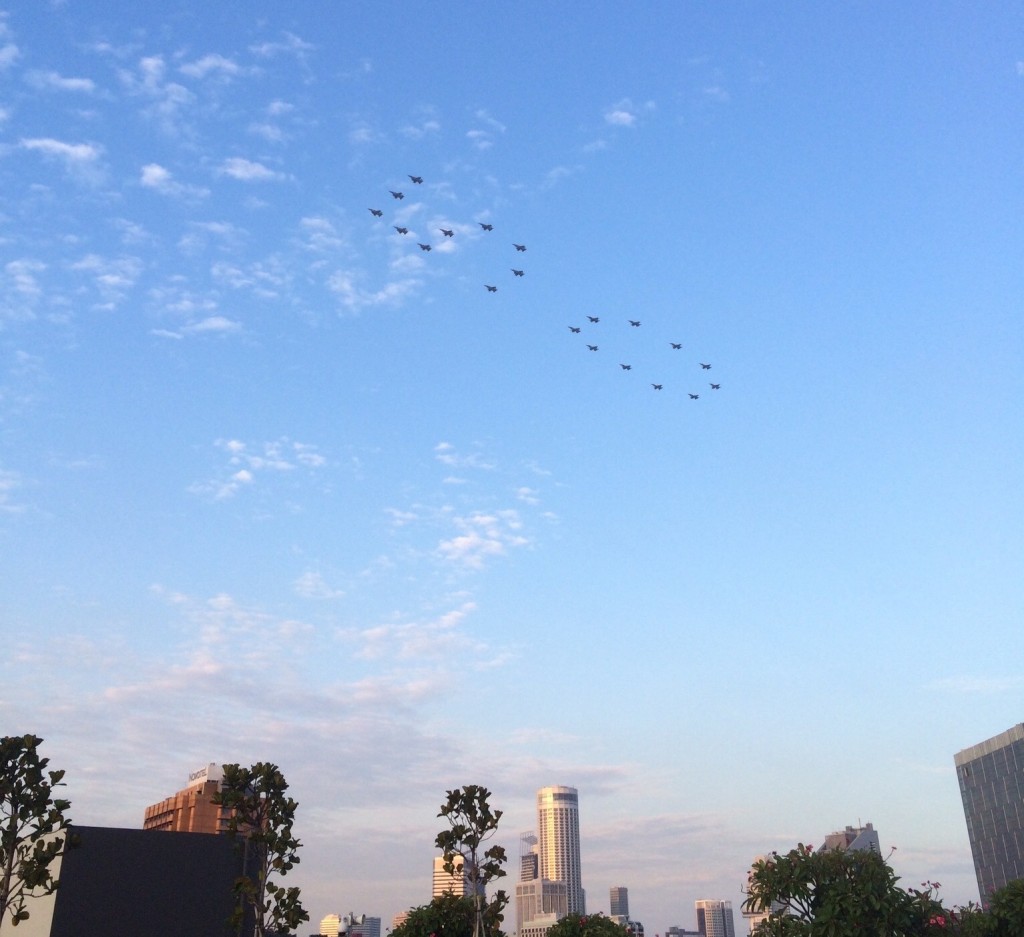 Let there be ice
The hotel also scores points for having an ice machine with two sizes of ice buckets.  This might seem like an odd point of positivity, but ice is not a truly ubiquitous state of being for H2O throughout Asia.  I've stayed at a few hotels that simply did not have ice-machines forcing me to have to call down to the front desk to have some brought up (usually in a single glass).  I am an avid cold-drink drinker (much to the dismay of my wife's Chinese medicine influenced sensibilities). While I am in the room, I like having a bucket of ice on hand so that I can add it to a glass of juice, tea, or have ice-water on demand.  Chalk it up to my southern upgrading in the U.S. where we often beat the heat with a tall glass of iced whatever.
Unlike many hotels in the states, Holiday Inn Express did only have the one ice machine, situated in the laundry room.  Fortunately my incessant use did not overwork it.  I had visions of my continuous demands of the device causing it to malfunction, but thankfully this never came to pass.  I was reminded of a recent stay at a hotel in Dallas, where the ice machines on every floor but one were out of service.
Size doesn't does matter
If there was a downside to our stay at the Holiday In Express, it was the room size.  I gather that the HI Express line is tailored to the business professional who is on the go, needs to get in, do business, and get out.  Rooms are about a little more than half the size of your normal hotel room (or tiny by my wife's reckoning).  Take out the typical lounge chair(s) lamp area, press the desk next to the bed, then press the bed next to the bathroom and you have an idea of the space.
I was actually ok with the space and felt the trade off was fine (for the price).  It's not like we were having social gatherings in the room.  Things got a bit cramped when we open our luggage, but overall I felt it was manage.  My wife on the other hand was very disappointed and longed for more space to spread out.  Because of the diminished room size, the bathroom also has small reduction with the elimination of a bath tub.  Here too, a point that would matter little to the business traveller, but my little one is at the age where she just loves the tub, and showers are just not as fun.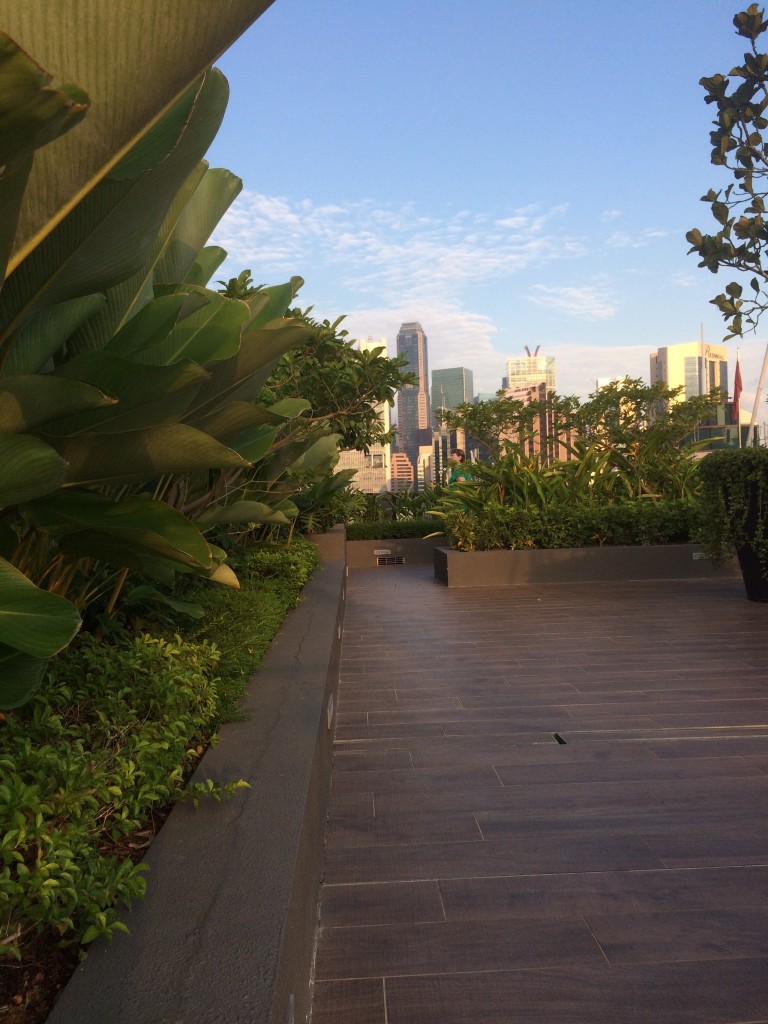 Credit where it's due
The staff were always pleasant and helpful.  They did an excellent job of maintaining our rooms, even when we would just pop out for a couple hours during the day.  We had a very early checkout to catch an early-bird flight back to Hong Kong and they helped arrange a taxi for us in the wee AM hours.  That's fairly standard, but as I noticed that we were pretty tight on the remaining SP currency I wasn't sure I'd have enough for the fare, the staff informed me that they had a small cash loan service option I could use if necessary.  As it turns out I did have enough SP$, but that's a nice service to know about.  I should note that Singapore taxis don't take Visa, but they do accept MasterCard (I actually had a MC with me, but had forgotten I brought it).
Wi-fidelity
One thing that is a must for me in a hotel stay, is solid, consistent WiFi.  On this front Holiday Inn Express more than met my expectation.  Logging in to the network was a breeze and was valid for the duration of our stay, meaning that, unlike some hotel networks, I did not have to re-login every few hours.  I can't recall the limit on how many devices I was allowed to connect, but this trip had two tablets, two phones, and a laptop for one room (my stepmother had her own room).  Speeds were solid, and I was able to stream video content as well.  I was disappointed that I could not connect my Amazon Fire TV Stick to the TV, as the screen was embedded into an alcove in the wall and I could not find an accessible HDMI port, but the tablets sufficed for content streaming when needed (which can be more often than one might like when travelling with a toddler).
Should I stay or should I go now
The question I always ask myself when I review something, be it food, a movie, or anything else, is how likely am I to return to it.  If I were going back to Singapore, would I stay at the Holiday Inn Express again?  Yes, particularly if the price were good.